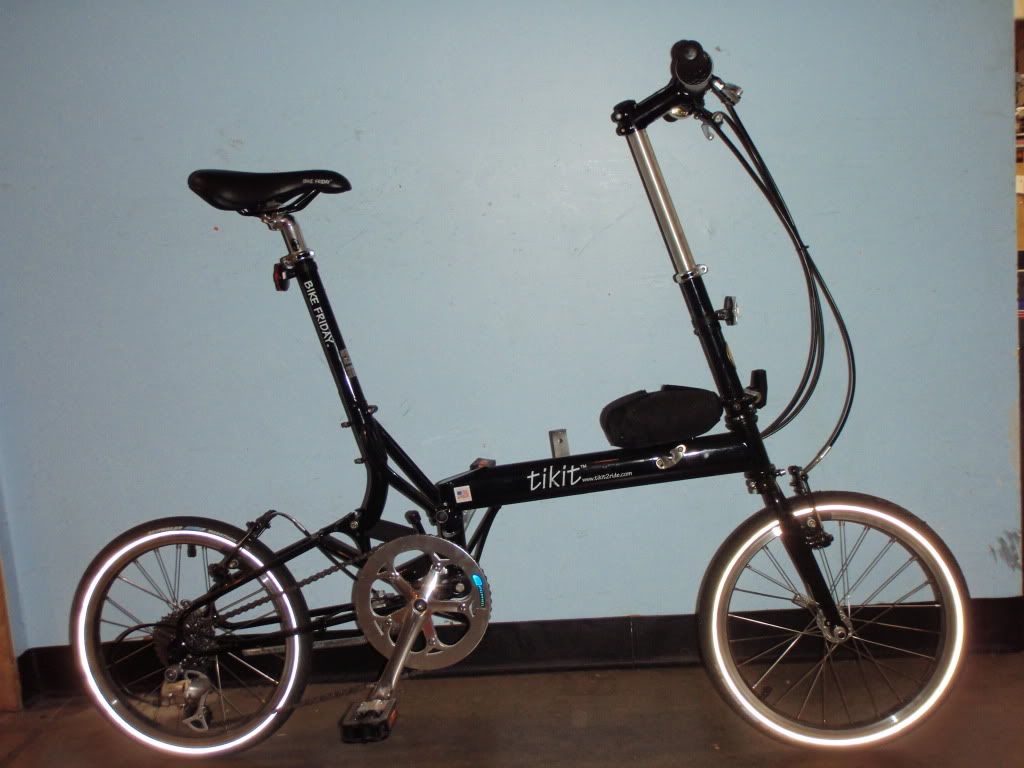 A tikit bicycle is a folding bicycle.  Tikit bikes are quite amazing because they can be folded and unfolded in less than five seconds with a bit of practice.  Tikit bikes are available in small (50cm top tube), medium  (55cm top tube) and large (60cm top tube).  The large tikit bicycle has a thicker tubing which supports a larger rider better.  Tikit bikes weigh about 24 pounds and are made in the USA by Bike Friday.
When the tikit bike is folded, it fits into a 15 x 24 x 15 inch space, so these bikes are ideal for people who stay in flats or houses with limited space available.  These folding bikes are made with 8 speed SRAM rear cassette gears in black or blue black.  Bike Friday also builds folding bikes to order in a variety of colors and provides a choice of features.
The tikit bike is a relatively new concept and was introduced in 2007 for the first time.  These first editions had the two brake cables in the folding mechanism, which created excessive flex in the handlebar stem when riden.  In 2008 a newer version of the folding bike came out which was known as the Model T, and the pair of brake cables were replaced with a single cable which was thicker.  There were also other improvements to the handlebar stem and the rear seat pin assembly.  This bike was much stiffer, and Bike Friday does provide an upgrade path for the 2007 tikits to follow.
In 2009, Bike Friday announced a recall for the tikit for safety reasons.  In a lot of the folding bikes the 'aardvark,' which is the portion of the seatmast which folds down on its hinge, had developed a stress crack due to the weight of the riders.  In some instances, Bike Friday replaced the aardvark and in others just strengthened it with a brace.  Later in 2009 Bike Friday replaced the aardvark piece by integrating it into the curved bar to make it stronger and replacing the brace.
Tikit bicycles are ideal bikes for urban commuters.  They fold easily and can be carried onto public transportation, and even stored in ones office.  They are popular with cyclists who live in apartments because they don't take up a lot of room.  Generally people keep Tikit bikes for the convenience and easy assembly.